Núpsstaðaskógar - Expedition
3 days trekking including crossing one of Europe's largest outlet glaciers
Day 1

Our mission starts with a pick up at the carpark in Skaftafell. From here you will be driven for 30 minutes on the highway and then we will drive off road for a good half hour before we stop at the beginning of our walk. The hike starts with a bang as we travel next to a stunning meandering river which leads us up to a small climb in the cliffs (protected) the climb is most definitely worth it when you get to see the view from the top. We will continue up the breathtaking Nupstaðaskogar valley until we are high on the plateau above Skeiðarárjökull. We will camp here for the night.

Day 2
Today we will cross the mighty Skeiðarárjökull, one of Icelands largest outlet glaciers. On the glacier you will navigate large crevasses and watch as water pours into moulins (big holes) that bore deep inside this sleeping giant. The hike can be a long one but at the end of it we will reach arguably Icelands finest camping spot. This really is an amazing place to spend a night.

Day 3
As if things couldn't get any better? well, they do. This day sees us ascend up the Skaftafell range surrounded by an incredible rainbow of colours due to the rhyolite in the rock, knife edge ridges and calving glaciers far below us. We will summit the highest mountain around with fine panoramic views. After this we will descend into one of the oldest birch forests in Iceland. Once down we have a more relaxed walk out into the civilisation of Skaftafell. Here we will say our goodbyes and let you rest.

Included
Pick up and drop off from Skaftafell
A qualified and experienced guide
All technical safety equipment (harness/crampons)


Not included
Food (Can be arranged for an extra cost)
Camping equipment (You can rent from us)
Travel to Skaftafell



Note
This is a summer trek so we will run tours in July and August
Call or email us now for more information - contact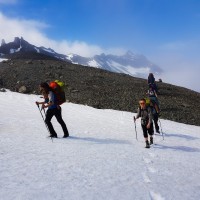 "Unreal views and great guiding
I did a guided trip in Iceland with Dan and it was a fantastic experience! We were hiking over some pretty slippery terrain near Skeiðarárjökull glacier. The conditions were tough at times but Dan made sure everyone felt safe. He was very attentive during the hike especially when crossing the more challenging areas. I would definitely recommend Dan as a guide. He is really good at assessing when to push you a little beyond your comfort zone and when you need a hand. Thanks for the awesome trip Dan!"
Lonesome dove, Tripadvisor
No staycation for us! We did an amazing trekking with Pict expeditions in July 2020.
We had the most breathtaking campsites into the wild: overviewing the glacier or our own Garden of Eden: tents with a view! And with Dan, you can't have a better guide. He's very qualified as an trekking guide, climber and alpinist, very responsable: he knows how to take care of a group, even if you haven't much experience. After a few days of hiking, we did that amazing initiation of iceclimbing: A real experience! I can only recommand this trip... Don't hesitate, because this all-in trip is one of the best trips ever!
Annelise Van Der Berg, Facebook